Welcome
We are a non-profit breed organization working to serve its members in the areas of cattle promotion, breed improvement and continuous education of its breeder members and associates. The members of the Iowa Charolais Breeders Association are striving to produce the type of Bulls and Females that work in today's and tomorrow's markets.


Cattlemen, who use Charolais genetics, will realize some of the following:
Mothering ability
Opportunity to get to market faster
Natural heterosis to produce more pounds
Efficient utilization of feed
Yearly lower cost per pound of gain
If you are interested in any of these traits, contact anyone of our members.
We will be happy to help get you in the
MONEY!

2019 MEMBERSHIP DIRECTORY
>
CLICK TO VIEW
Latest
News
...
Curt Clancy
April 2, 1954 - April 21, 2019
It is with a heavy heart we regret to inform everyone of the loss of Curt Clancy. He was an honored member of the Iowa Charolais Breeders Association for many years and currently working as Secretary of our Association. We are so sorry for his family's loss.
For More infomation please visit the funeral home website.
FEBRUARY 9, 2019
Iowa Charolais Breeder Banquet
at Diamond Jack's on the Fairgrounds
6:00 PM - Social Hour
7:00 PM - $25 Rib-eye Steak Supper
Junior Auction following meal

FEBRUARY 10, 2019
Live Auction Video - Charolais Parade
2:00 PM

FEBRUARY 11, 2019
CHAROLAIS SALE - IOWA BEEF EXPO
1:30 PM - Iowa State Fairgrounds, North Annex
> CLICK HERE FOR CATALOG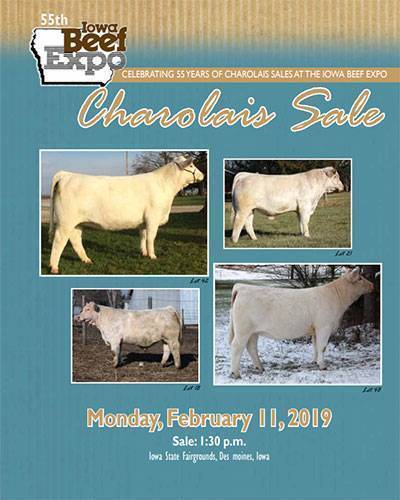 MARCH 10, 2019
Board Meeting

ATTENTION HS SENIORS & COLLEGE STUDENTS!
New ICBA Scholarship
Deadline: March 1
>