Welcome
We are a non-profit breed organization working to serve its members in the areas of cattle promotion, breed improvement and continuous education of its breeder members and associates. The members of the Iowa Charolais Breeders Association are striving to produce the type of Bulls and Females that work in today's and tomorrow's markets.


Cattlemen, who use Charolais genetics, will realize some of the following:
Mothering ability
Opportunity to get to market faster
Natural heister to produce more pounds
Efficient utilization of feed
Yearly lower cost per pound of gain
If you are interested in any of these traits, contact anyone of our members.
We will be happy to help get you in the
MONEY!
2022 Beef Expo Catalog
>
CLICK TO VIEW

2022 MEMBERSHIP DIRECTORY
>
CLICK TO VIEW
Latest
News
...
Iowa Charolais Field Day
Warren County Fairgrounds, Indianola, IA
Sunday, June 12th
11am Showmanship, 1pm Show, Lunch at Noon
Check-In Time: 9-11am
Judge: TBD
Contact: Tracy Tibboel
Phone: 641-891-3502
Meetings of the Adult Board and Juniors will be held following the shows.
Charolais Sale Results:
Top Selling Bull - SR Rip 14P
Consigned by: Siek Ranch
Purchased by: Bedwell Charolais and Johnston Charolais
Top Selling Heifer - JAB EC Rebel 992 Polled
Consigned by: J&A Charolais
Purchased by: Cory Miner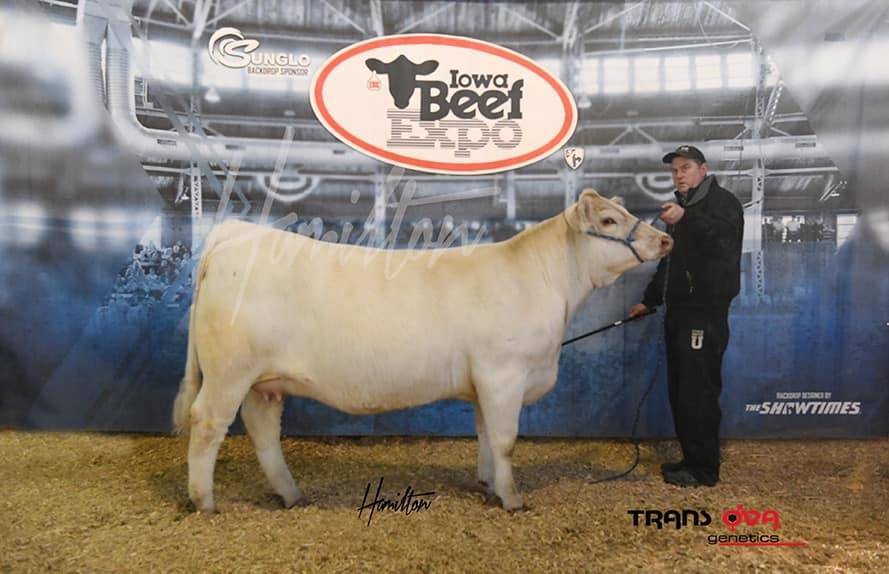 High selling heifer: $6500
High Selling bull: $7500
Live lot average: $3006
2022 SUPREME ROW DRIVE
SUPREME OVERALL HEIFER
Winner was the Charolais Bred Heifer- Lot #35
Consigned By: Derrer Farms - Rod Derrer of Milan, IL